By Erika, Resident Fashionista
Side note: I know I promised this post for Monday. If you follow YCS on Twitter (which you should) then you probably have a basic idea of the giant mess this past weekend turned into! Needless to say I didn't get anything done – not even blogging. Excuses are stupid, so that's it from me!

Before we get started, guys, don't forget to check out Donte's guide to summer weddings here!
Summer wedding season is in full swing. And, if you're anything thing like me and my friends, you've got a gaggle of summer nuptials to attend. Getting wedding ready is hard enough. But then, when you've got to fight with heat, humidity, insects, and a bunch of other elements it can feel downright impossible. Never fear, YCS is here to help! Whether you're going to a black-tie, beach, outdoor or afternoon wedding there are a few simple things to keep in mind.
1. Color – Summer weddings are the perfect time to bust out some of your best, brightest and prettiest colors. Save deep tones like wine, emerald, and navy for wintertime affairs. Break out pretty yellows (like the dress I'm wearing below at a wedding in the summer of 2012), corals and pinks, oranges, or fun shades like turquoise for summer weddings.
Cool prints or patterns and pretty laces are also perfect for summer weddings. I'm loving this organza dress in Wisteria from David's Bridal.
2. Fabric – Unless you spend your summers in Antarctica or London, summer is hot. Which means you don't want to be bothered with cumbersome fabrics. You definitely want to stay away from brocades, satins, velvets and any other really heavy fabric. Even at a more formal wedding, opt for a lighter fabric like charmeuse, chiffon, taffeta, tulle or even jersey. These types of fabrics are light and airy which will be EXTREMELY helpful in hot temps. Check out this handy fabric guide at The Knot for more deets on summer-friendly fabrics.
3. Cut – Summer is definitely a great time to experiment with different types of dress cuts. Long gowns in pretty, flowing fabrics look amazing for beach weddings and evening affairs. I would wear this coral colored organza gown to every summer event I attended if it wasn't for the Facebook paparazzi!
But don't be afraid to experiment with a shorter gown – like a cute cocktail or tea-length dress. I'm also a HUGE fan of high-low dresses at summer weddings.
I'm pretty much looking for any reason in the book to wear this strapless Chiffon Short Dress: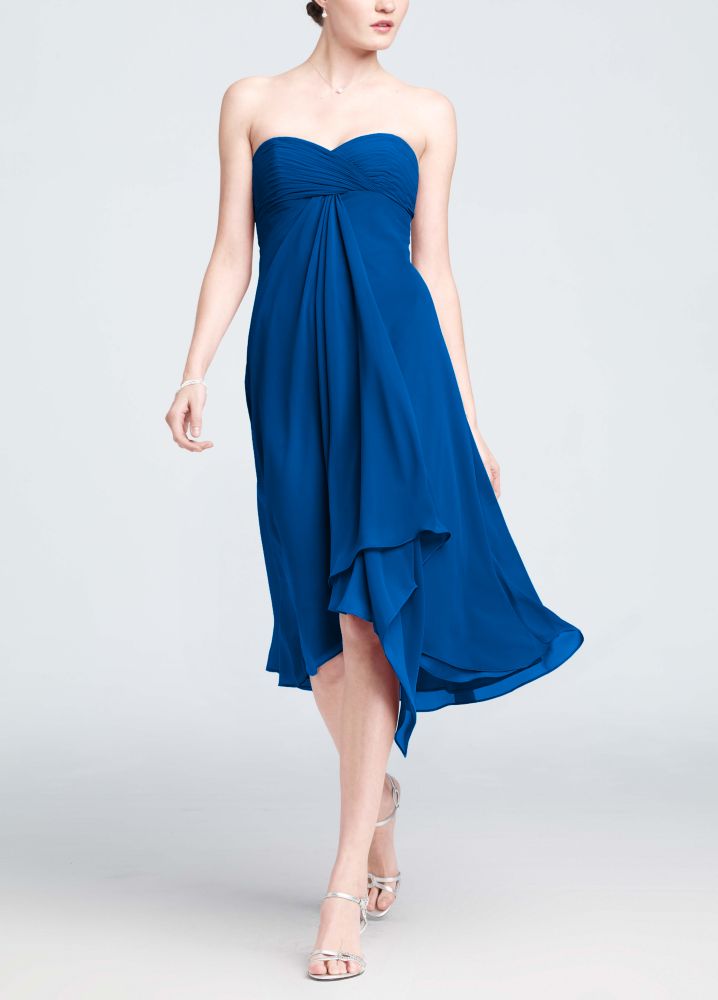 in one of these colors (specifically begonia):
And don't just play with the length. Play with necklines. Beautiful, one-shoulder dresses are all over the place these days! Along with sweetheart necklines, halters and classic v-necks! Whatever you style is, you can find it!
4. Hair, Make-up and Accessories – In the summer, I'm definitely a fan of pretty updos and light, delicate jewelry. If your dress is light and airy you want your hair, make-up and accessories to match. A loose, high-low dress would look beautiful with a messy updo or loose, flowing curls. Summer weddings are also the perfect time to perfect a less severe smokey eye, like the one pictured on Vanessa Hudgens.
Seriously, how hot would you look rocking that look at your next beach wedding?! And, summer weddings are the best excuse ever to rock those super sexy, strappy sandals. Save the sturdy pumps and suede shoes for another day!
If you keep these easy tips in mind, you'll be sure to look like a million bucks at all of your summer weddings!
Your Chic is Showing,